New Jersey Devils youngster Luke Hughes scored the first goal of his career on Thursday night on a pass from his brother, Jack Hughes, and helped lock the team into a playoff spot.
Hughes' goal came with 26.4 seconds remaining in overtime against the Washington Capitals. He was initially denied on his first shot but regained the puck and put it into the back of the net on the wrap-around attempt.
CLICK HERE FOR MORE SPORTS COVERAGE ON FOXNEWS.COM
New Jersey won the game 5-4.
Hughes' goal came in his second career game. He also had an assist earlier in the game.
AVALANCHE CAPTAIN GABRIEL LANDESKOG WILL MISS STANLEY CUP PLAYOFFS IN TEAM'S QUEST TO REPEAT
New Jersey was down three goals twice in the game. Washington had a 3-0 lead in the first and a 4-1 lead in the second period before the comeback began. Erika Haula had two goals and Miles Wood and Dougie Hamilton had one score each.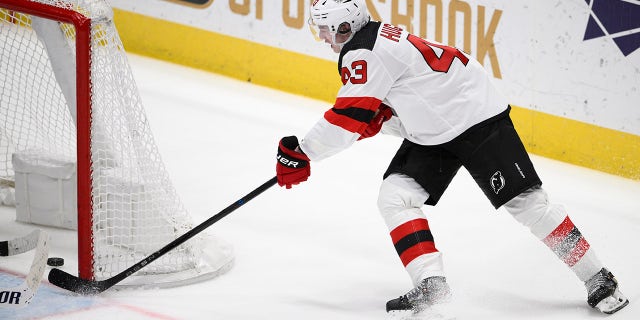 The victory marked the Devils' 52nd win of the season, moving the team to 52-22-8 on the year. They finished behind the Carolina Hurricanes for the Metropolitan Division title.
The 52-win season sets a new franchise mark. The team won 51 games during the 2008-09 season under Bruce Sutter. However, New Jersey lost in the NHL Eastern Conference quarterfinals that year.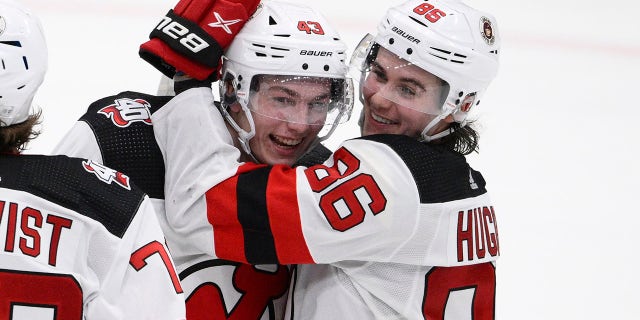 CLICK HERE TO GET THE FOX NEWS APP
The Devils will play their rivals across the Hudson River – the New York Rangers – in the first round of the Stanley Cup Playoffs.