A fan managed to run on the field during Wednesday's night game between the New York Yankees and Seattle Mariners, but it wasn't the several security guards chasing after him that eventually slowed him down. 
Video shared to social media showed the moment a fan ran onto the field at Seattle's T-Mobile Park during the 10th inning. 
UMPIRE'S 'F—ING TERRIBLE' CALL LEADS TO MARINERS MANAGER AND PLAYER EJECTIONS VS. YANKEES
The unidentified man was seen being chased down by several security guards in the outfield to no avail.
Seemingly fed up with the trespasser's antics, one man is then seen leaping from his seat in an attempt to grab the fan as he ran by.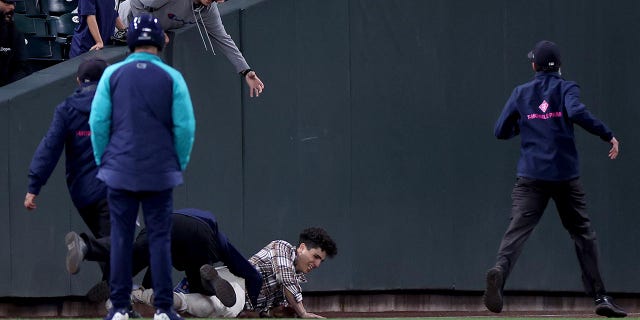 CLICK HERE FOR MORE SPORTS COVERAGE ON FOXNEWS.COM
The man in the stands managed to grab onto the other's clothing, which seemed like just enough to slow him down in time for security guards to tackle him immediately after. But in the process of trying to stop him, the man in the stands fell out onto the field. 
It is unclear if the fan running on the field was arrested or charged. King County Sheriff's Office, which handled the incident, did not immediately respond to Fox News Digital's request for comment.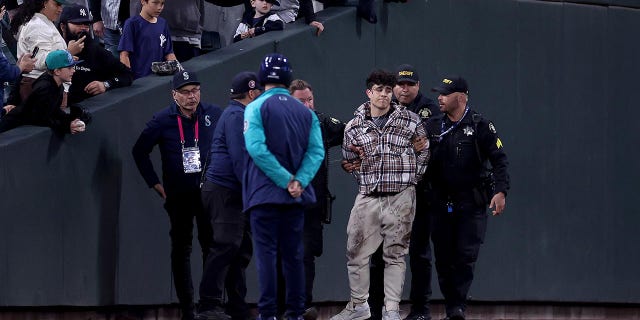 CLICK HERE TO GET THE FOX NEWS APP
The Yankees won their first two games of the three-game series against Seattle. Cal Raleigh's single leading off the bottom of the 10th inning on Wednesday scored pinch-runner Jose Caballero to give the Mariners a 1-0 win.
The Associated Press contributed to this report.