An Indiana high school was evacuated Tuesday after more than 20 students and staff members were injured following reports of a chemical spill, though no evidence of a spill was found.
Officials at Beech Grove High School in Beech Grove, Indiana, pounced into action after a staff member notified the school resource officer there was white smoke coming from a girls' bathroom.
Superintendent Laura Hammack said in a statement Tuesday that school principal, Andrew Karr, initiated a fire drill to evacuate the building as quickly as possible, and within three minutes, all students and staff had exited the high school.
VIRGINIA HIGH SCHOOL EVACUATED AFTER CHEMISTRY CLASS 'INCIDENT'
As the Hornet Avenue school was being evacuated, emergency crews were dispatched to the scene.
"We are deeply grateful for the comprehensive emergency support provided by these incredible professionals," Hammack said.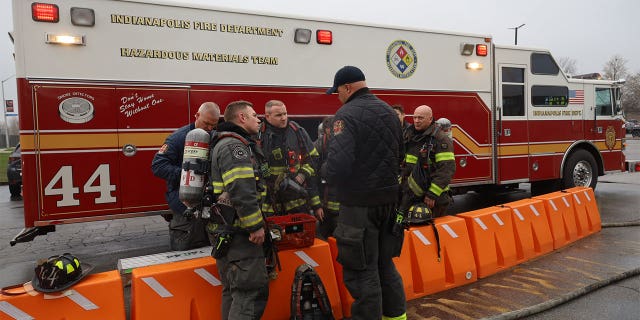 Hammack said 21 individuals – nine students and 11 staff members – expressed health concerns related to smoke inhalation, and a physician on-site conducted medical reviews of each person.
SCHOOL THAT HOSTS 'SATAN CLUB' PUT ON LOCKDOWN, DISMISSED EARLY FOLLOWING BOMB THREAT
The superintendent said none of the individuals were recommended to be transported to an area hospital.
All students were sent to the Beech Grove Community Center and Hornet Park Elementary school to either be picked up by their parents, or board a bus home.
The district reported that every student was picked up within 40 minutes of the start of the evacuation.
According to the district, the Indianapolis Fire Department Hazmat Unit investigated the scene and could not find evidence of a chemical spill, adding that the surfaces were tested, and they could not find residue of a chemical spill.
VIRGINIA HIGH SCHOOL STUDENT CHARGED AFTER PACKAGE, NOTE LEFT ON TEACHER'S DESK TRIGGERS BOMB THREAT
District officials said they will be reviewing all security cameras and investigating the incident to understand what occurred in the bathroom. 
"A disruption of the school day like what was experienced today is unacceptable, and we will work tirelessly to ensure that the cause of the incident is uncovered, and appropriate consequences are rendered," Hammack said.
As a result of the incident, the district canceled all after-school events, allowing custodians to clean and sanitize the building in time for school Wednesday.
CLICK HERE TO GET THE FOX NEWS APP
"I am extremely proud of the incredible response by our law enforcement, fire department, and first responders during this very active event," Hammack said. "Additionally, the BGHS students, teachers, and staff as well as our colleagues at Hornet Park and the Beech Grove Community Center were nothing but extraordinary. 
"Thankfully, a potentially frightening event ended with a positive and safe outcome."