A man who officials say kidnapped and held a woman captive in a makeshift cell in his Oregon garage allegedly attacked, abused and threatened to kill another woman and their two children before she sought a protective order against him three years ago.
"He physically attacks me, he hits me, he brakes (sic) and throws things, he screams at the kids and me … we get woken up every night from him being drunk and loud and scares us," the woman wrote in a 2020 petition for a domestic violence restraining order.
Negasi Zuberi — a 29-year-old who goes by the aliases "Sakima," "Justin Hyche" and "Justin Kouassi" — was arrested July 16 in Nevada in the kidnapping case and has been linked to at least four violent sexual assaults in four states, the FBI said. Officials fear he may have other victims.
The woman's petition seeking a restraining order against Justin Kouassi, one of the suspect's known aliases, was filed in July 2020 in Contra Costa County, California, and obtained by NBC News on Thursday.
It's unclear whether the restraining order was issued or if the case was dropped. The document states that a September 2020 appearance dropped from the court calendar.
She also accused Zuberi of taking her phone to keep her from calling police and taking her money as a form of financial abuse. She also wrote that she had bruises from him "hitting," "restraining" and "beating" her.
"He comes at night without my permission, broke my windows, trying to beat on me, treatening (sic) to kill me and my kids," she wrote. "He treat (sic) to take them away so I can be miserable without them."
NBC News is not identifying the woman or her children, who may be victims of abuse. A phone number listed for the woman was not in service when NBC News attempted to reach her Thursday.
The petition also states that the woman's two children, who she shared with Zuberi, are scared of him.
"My kids hide from him because he's always loud and angry and unpredictable," she wrote. "Wakes them up all hours of the night making them cry all time."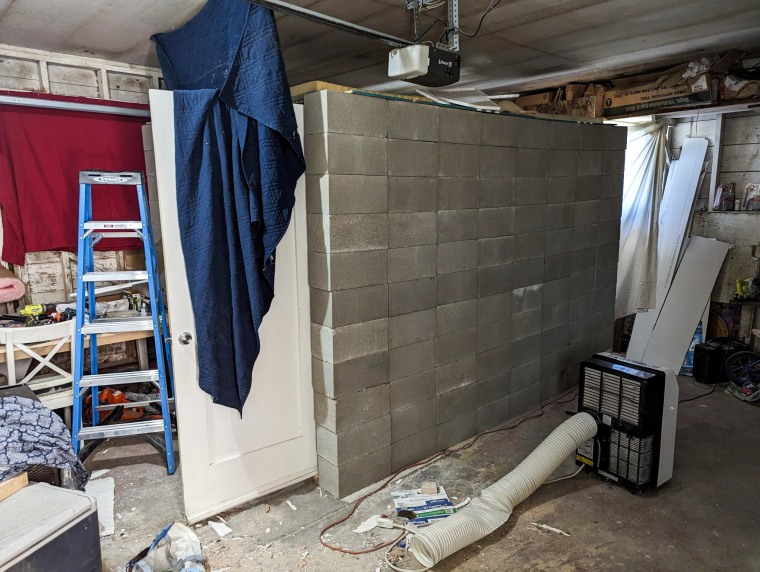 A neighbor of Zuberi's in Klamath Fallas, Melanie McClure, said Thursday that she rarely saw his wife or children — both of whom are younger than 10 — after the family moved into the home earlier this year.
She later befriended Zuberi's wife and recalled inviting her on a "mom's night out" with other friends in April or May.
When McClure stopped by their home to let the woman know they were leaving, McClure said the woman asked her husband if she could "at least" bring her cellphone. 
McClure, stunned at the question, said she tried to reassure Zuberi about their plans. He responded with what McClure described as "degrading" comments about his wife.
"He told me, 'She can go, that's fine,'" McClure recalled. "But then this door's gonna be locked, and she'll need to figure out where she's gonna stay tonight."
McClure said she pushed back and Zuberi relented, agreeing to give his wife her phone and to leave the door unlocked. But when the women were at a restaurant, Zuberi showed up, sat at the bar and watched his wife without saying anything for roughly 30 minutes, McClure said.
"He controlled her and her life," McClure said, adding that she pushed Zuberi's wife to seek help.
While McClure thought police officers would likely be summoned to a situation at the home involving Zuberi and his wife, she never believed they would respond to something as dire as what federal authorities described.
"To think you could get away with something that crazy — it's baffling," she said.
Zuberi is accused of kidnapping a sex worker in Seattle last month and taking her to his residence in Klamath Falls, Oregon, where she was kept in a makeshift cell he constructed in his garage of cinderblocks with a metal door that couldn't be opened from the inside.
He's been charged with one count of interstate kidnapping in federal district court in Oregon.
According to a criminal complaint, the victim fought her way out and "repeatedly banged on the door" until it broke open. Once out, she flagged down a passing motorist who called 911. 
Zuberi fled and was ultimately found in Reno, Nevada, on July 16, with his family at a Walmart parking lot.
He was in a car, holding one of his children in the front seat, speaking with his wife who was outside the car, officials said.
"He refused to exit the vehicle and cut himself with a sharp object causing him to bleed profusely. He also attempted to destroy his phone," the complaint said. The child was unharmed, the document said.
The booking report in Washoe County, Nevada, shows additional charges of false imprisonment, child neglect, false imprisonment with victim as a shield, fugitive from another state, and assault with a deadly weapon.
Zuberi's lawyer in Oregon did not immediately respond to a request for comment. He declined an earlier request.
He has lived in 12 states — California, Washington, Oregon, Colorado, Utah, Florida, New York, New Jersey, Michigan, Illinois, Alabama and Nevada — over the last decade, the FBI said.
Officials said that he may have used several methods to target victims, including drugging drinks and impersonating a police officer.
The FBI launched an investigation website where potential victims or others with information related to the case can fill out a form to offer more information.
"Some of the encounters may have been filmed to make it appear as if the assault was consensual," the page noted. "The victims are threatened with retaliation if they notify the police."