Brittany Mahomes, wife of two-time MVP quarterback Patrick Mahomes, recently shared details about a frightening ordeal involving the couple's son.
Brittany took to Instagram earlier this week and opened up about "a very scary and frantic trip" to the hospital after learning 5-month old Patrick "Bronze" was "highly highly allergic to peanuts."
"The scariest 30 min of my life," she wrote in an Instagram story post.
CLICK HERE FOR MORE SPORTS COVERAGE ON FOXNEWS.COM
Brittany and Patrick Mahomes celebrated the birth of Patrick "Bronze" Lavon Mahomes III in November 2022. Bronze's older sister Sterling Skye is 2½.
PATRICK MAHOMES, WIFE, BRITTANY'S COUPLE'S QUIZ GOES VIRAL AFTER MISFIRE
Patrick and the Chiefs won the 2023 Super Bowl, and Mahomes received MVP honors. 
A couple of days after the three-point victory over the Eagles, the Mahomes family celebrated by taking a trip to Disneyland. 
"Welcome to the happiest place on earth, Bronze and Sterling!" Patrick and Brittany said in a joint Instagram post accompanied by a heart emoji.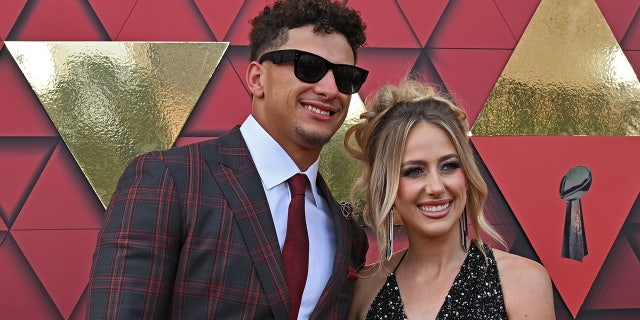 Brittany and Patrick held a wedding ceremony in Hawaii in March 2022.
Brittany co-stars alongside her husband in the Netflix series "Quarterback."
During one of the episodes of the docuseries, Patrick discussed the early phase of their relationship.
"We kinda met in seventh, eighth grade," the NFL star said."She was the grade above me. I was kind of the best friend, in the friend zone forever."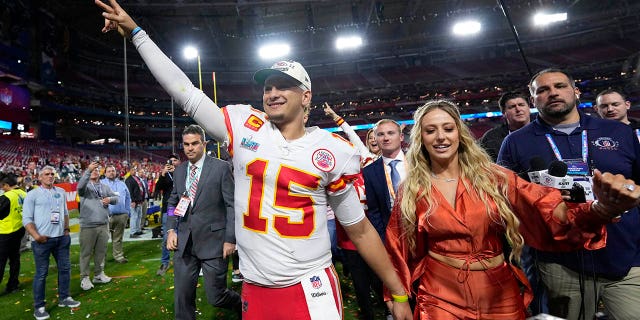 Mahomes then detailed how he courted Brittany.
"I used to walk her to class and was trying to flirt. When I was a sophomore in high school, she was a junior. I actually got her a rose. … I kinda … I had a crush on her. But I was getting a rose as a joke for Valentine's Day."
CLICK HERE TO GET THE FOX NEWS APP
The Mahomes talked to "CBS Mornings" about the series. Brittany Mahomes admitted to broadcaster Nate Burleson the sudden rise to fame and the scrutiny that comes along with it caught her by surprise.
"I was not prepared for this," Brittany Mahomes said. "At such a young age we were in love, and I loved him with all of my heart. But I didn't expect it to skyrocket this soon and us kinda being thrown into the fire like this."