Biden's motorcade has arrived at 10 Downing St., where the president is expected to hold talks with his British counterpart.
The war in Ukraine will be at the top of the agenda in today's talks.
War in Ukraine must end before Kyiv can join NATO, Biden says
Biden has said Russia's war in Ukraine would need to end before NATO can consider adding Kyiv to the alliance.
Biden told CNN's Fareed Zakaria that discussion around Ukraine joining NATO was premature, but he said the U.S. and its allies in NATO would continue to provide Kyiv with weaponry and support to end the war.
"I don't think there is unanimity in NATO about whether or not to bring Ukraine into the NATO family now, at this moment, in the middle of a war," Biden said. "For example, if you did that, then, you know — and I mean what I say — we're determined to commit every inch of territory that is NATO territory. It's a commitment that we've all made no matter what."
"If the war is going on, then we're all in war. We're at war with Russia, if that were the case," he said.
Photo: Members of the media await Biden at No. 10 Downing St.
Reporters are gathered outside 10 Downing St. in central London ahead of Biden's visit.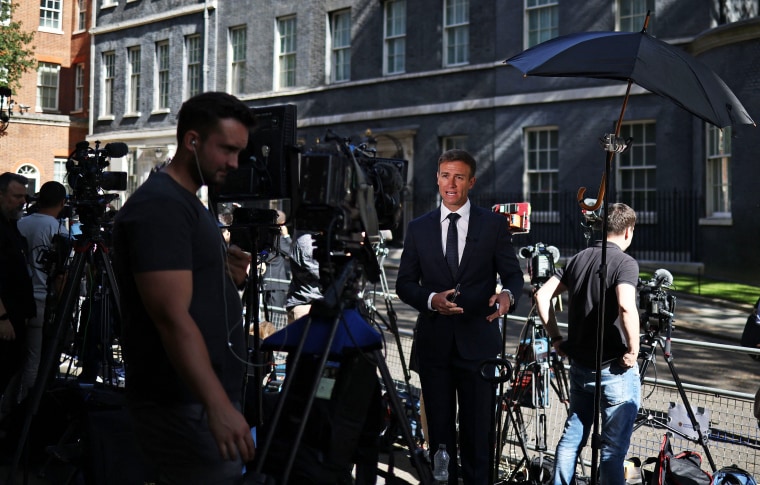 Talks come as Sunak speaks out against use of cluster munitions
Biden's meeting with Sunak comes after the British prime minister expressed disapproval of the use of cluster munitions following the U.S.'s decision to send cluster bombs to Ukraine.
Sunak said over the weekend that the U.K. "discourages" the use of cluster bombs after the U.S. announced its decision to give them to Kyiv.
Some human rights groups oppose the use of cluster munitions because of concerns that unexploded bomblets, or duds, could explode after battle, potentially injuring or killing innocent civilians.
Sunak noted that the U.K. was one of at least 123 countries that signed a convention banning use of cluster munitions, saying: "We will continue to do our part to support Ukraine against Russia's illegal and unprovoked invasion, but we've done that by providing heavy battle tanks and most recently long-range weapons, you know, and hopefully all countries can continue to support Ukraine."
What to expect on Monday
Biden will face a busy day of talks and meetings aimed at strengthening the "special relationship" between the U.S. and U.K. on Monday.
The president is expected to first hold talks with British Prime Minister Rishi Sunak at 10 Downing St. The talks will mark the sixth meeting between the two world leaders since Sunak took office last October.
Biden is later expected to visit King Charles III at Windsor Castle, a royal residence outside London. This will be their first meeting since the king's coronation, which Biden did not attend, with first lady Jill Biden going in his place.
Biden kicks off Europe trip with London visit
President Joe Biden launched his trip to Europe on Monday with a visit to Britain's capital, where he will meet with British Prime Minister Rishi Sunak and King Charles III.
The two world leaders will look to strengthen the "special relationship" between their two countries — an alliance that has been tested by Russia's invasion of Ukraine.
The war in Ukraine will be at the top of the agenda, with Biden and Sunak expected to discuss the counteroffensive, as well as Ukraine's bid to join NATO.