CNN
 — 

There's a lot you can do in just under three minutes.
You can listen to "Speed of Life" by David Bowie, you can re-live Usain Bolt's 100m world record run 18 times, and, if you are an exceptionally talented Premier League footballer, you can even squeeze in a hat-trick.
Alternatively, you can watch a golfer hit a single ball.
That was the situation one fan found himself in at the RBC Heritage last month, as he fired up the stopwatch on his iPhone to time Patrick Cantlay lining up a shot during the final round of the PGA Tour event.
When the American eventually swung, the clock was ticking past two minutes and 50 seconds.
In Cantlay's defense, the video wasn't without caveats. It was an awkward looking lie, the ball lodged in the rough behind a tree, and – with the timer at 90 seconds when first shown – it is impossible to know exactly how long the world No. 4 spent over his shot.
The problem for Cantlay, however, is that it was not an isolated incident – nor the most disgruntled reaction.
Footage of the golfer spending close to a minute standing over a four-foot putt that same day quickly found its way to the satirical side of the sport's Twitter community, which spliced the pictures with the closing scenes of the golf comedy classic "Happy Gilmore."
The titular character calculated and sunk his winning championship putt – one that bounced off the windshield of a car and careened leisurely around the debris of a collapsed tower – before Cantlay holed his effort, a tweet from parody account Tour Golf showed.
A week prior during the deciding round of The Masters, Cantlay had been playing ahead of the leading group, Brooks Koepka and soon-to-be champion Jon Rahm.
Koepka, whose frustrations with slow play lit the touchpaper of a fiery feud with rival Bryson DeChambeau in 2019, made no secret of his grievances.
"The group in front of us were brutally slow," Koepka told reporters.
"Jon went to the bathroom like seven times during the round, and we were still waiting."
Yet Koepka's comments paled in comparison to those made by one of Cantlay's playing partners during that decisive round at the RBC Heritage, Matt Fitzpatrick. The Englishman went on to lift the title, seeing off Jordan Spieth in a playoff, but did not leave Hilton Head fully satisfied.
For Fitzpatrick, regarded as one of the fastest players on the tour, a three-ball round should never take longer than four and a half hours. To get near that is a "disgrace," to go well past it is "truly appalling."
"The problem is this conversation has gone on for years and years and years, and no one has ever done anything, so I feel it's almost a waste of time talking about it," Fitzpatrick told Sky Sports.
"I have strong opinions, but no one's going to do anything about it. It's like hitting your head against a brick wall. No one ever gets penalized.
"I think it's a real issue, way more needs to be done. The thing is I really like referees over here, they are great people, but I did not see a single ref all day. There were a few shots we were waiting and I don't understand where they are all hiding. It does become frustrating when you are waiting so long."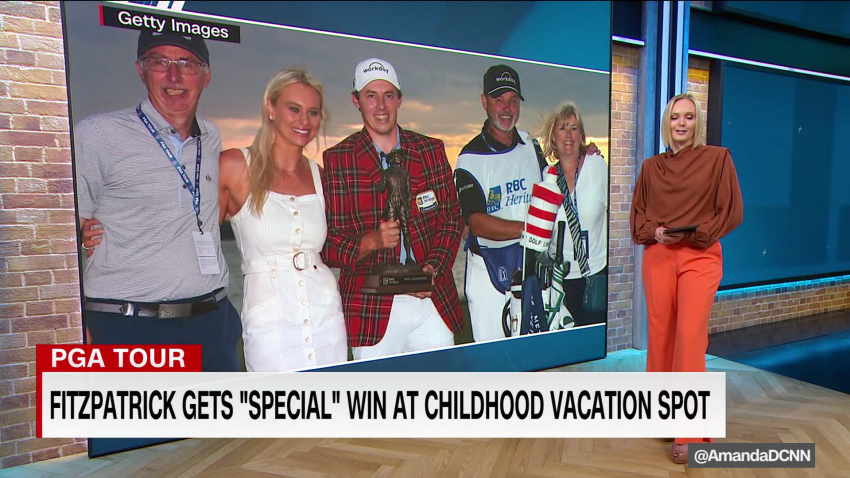 1-on-1 with newly minted PGA Tour winner Matt Fitzpatrick
Further complaints came from beyond the confines of the PGA Tour.
Responding to the video of the fan timing Cantlay on Twitter, former LPGA pro Anya Alvarez labeled it "atrocious."
"What is the point of having a pace of play rule if you're going to allow this? I was penalized on LPGA for slow play … and it forced me to speed up," Alvarez said.
And even the game's greatest are weighing in, with Jack Nicklaus and Annika Sörenstam both admitting that the PGA Tour have a problem on their hands.
"It's got to be equitable, but they need to make an example and stay with it," Nicklaus told Golfweek ahead of the PGA Tour of Champions' Greats of Golf event on Saturday.
"It's not very pleasant to watch somebody stand over the ball for half an hour."
Sörenstam added: "Nobody enjoys it and it's not fair, we're running out of time. Time is a precious commodity, so I think start at the very beginning and teach them to hit when you're ready and go.
"The more we think, the more complicated it gets, so just hit and go."
For Golf Digest analysts Joel Beall, Alex Myers and Luke Kerr-Dineen, there was a general consensus for Fitzpatrick's outburst: blunt, but true.
As well as having a negative "ripple effect" on groups behind the slow player – akin to the chain reaction of braking causing traffic jams on a highway – it could also lead to the Tour losing valuable eyes.
"Pace of play is an issue and has been for years," Beall told CNN Sport.
"What's changed is that sports leagues are recognizing their consumers don't have an infinite amount of time to devote to their fandoms and are adjusting accordingly. That golf hasn't has amplified the existing problem."
However, Cantlay seems unfazed. After dropping in a sensational hole-in-one during the second round of the RBC Heritage, the American tweeted video of his effort with the caption: "Playing faster!"
Quizzed on Fitzpatrick's criticisms ahead of the following week's Zurich Classic, Cantlay said his tenure on the PGA Tour's Player Advisory Council (PAC) had shown him that round times had been relatively similar across the last decade.
"So trying to speed it up, I'd be curious to know how they'd want to do that," Cantlay told reporters.
"I played the last two tournaments, and my group hasn't been warned at all … I don't know how you would want the groups that I've been in to play faster when our groups are in position and can't go faster because the group in front of us is right in front of us.
"I'm definitely slower than average, have been my whole career. I definitely take my time … I haven't had anybody come up to me or talk to me, but I'd be perfectly happy to talk to them about it."
Cantlay was speaking alongside fellow American Xander Schauffele, who defended his compatriot.
"All the things that have happened as of late have all been within the guidelines of the Tour and what's supposed to happen," Schauffele said.
"No one's been penalized for slow play or anything of that nature, so we're all operating within the framework of what the Tour gives us. If enough people complain or if enough Tour pros complain, that's something the Tour needs to address to either make it faster or change the time par.
"We're not playing like the local muni [municipal course] that the average Joe compares our time par to – we're playing for a couple million. If you're going to spend an extra minute to make sure you put yourself in the right spot, we're going to do it."
Ironically, the PGA Tour's Tournament Regulations handbook spends a lot of time on pace of play guidelines.
An entire chapter dedicated to the issue begins by citing the R&A and USGA's Rules of Golf guidance that "a round of golf is meant to be played at a prompt pace." That pace is set at 40 seconds to play a stroke, with an extra 10 seconds afforded under various circumstances, such as the first player to play a shot on a par-3 hole or on the green respectively.
"The player should usually be able to play more quickly than that and is encouraged to do so," the guidelines state, with golfers that exceed 40 seconds – AKA "bad time" – "informed as soon as practicable" by a tournament official.
While the first "bad time" offense goes unpunished, one- and two-stroke penalties are awarded for second and third violations respectively. A fourth offense during a round warrants disqualification. A second "bad time" equals a fine of $50,000, with a $20,000 fine for each subsequent offense.
Players that average more than 45 seconds a stroke over a 10-tournament rolling period are notified that they have been put on The Observation List, putting them under direct scrutiny from the Rules Committee. Observed golfers must play each stroke in under 60 seconds.
Should a player spend more than two minutes on a shot without a valid excuse, they are hit with an Excessive Shot Time. While the first offense goes unpunished, subsequent breaks put the golfer on The Observation List and are penalized by a monetary fine, starting at $10,000.
Both The Observation List and Excessive Shot Time were introduced by the PGA Tour in April 2020 to help speed up the pace of the game.
"You talk to players, read articles, hear from fans and what gets people, what gnaws at them, are these individual habits that people have," then-PGA Tour chief of operations Tyler Dennis told Sky Sports.
"It's seen as bad etiquette. It's seen as a distraction, and we're targeting those individual moments to help their fellow competitors and assist our media partners with presentation.
"We want to keep the focus where it should be: on world-class shot-making."
So how do you solve a problem like slow play?
One idea, floated by PGA Tour golfer Michael Kim, is to name and shame via a monthly report of the slowest players.
This was a strategy tested by 2010 Ryder Cup winner Edoardo Molinari in 2019, as the Italian – having voiced his frustration with the pace of play on the European Tour – fulfilled his promise of sharing a spreadsheet documenting the slowest golfers on the Tour via Twitter.
Arguably the most commonly suggested solution, however, is the adoption of a shot clock, akin to those used in both the NBA and Major League Baseball (even if the latter's recent introduction has led to considerable confusion among players).
The European Tour trialed the move at The Shot Clock Masters in 2018, dishing out red cards and one-shot penalties for violations, with players afforded two "time-outs" during each round.
However, Kerr-Dineen believes a golfing shot clock would be "too messy" to enforce. Instead, he says the PGA Tour should take inspiration from the American Junior Golf Association, where the introduction of "time par" checkpoints every three holes has helped speed up the youngsters' game.
"Each group has to reach the next checkpoint in a specified amount of time. A slow group gets two warnings, then players get a one-stroke penalty for each bad time after that," Kerr-Dineen explained.
"It's a simple to understand, proven system – and it works."
Golf Digest's Beall sees some value in shot clocks and public calling outs, but squares responsibility with those that decide where to position the hole.
"Those in charge of setting up the course on a weekly basis continue to put pin locations in tough spots on greens that are faster than they've ever been," Beall said.
"Put the pins in less severe spots and slow the greens down just a touch could go a ways in alleviating the issue."
And for Myers, the answer has been staring the PGA Tour in the face all this time: simply enforce the existing rules.
It has been 28 years since the last slow play penalty was issued to an individual at a PGA Tour regular event, when Glen Daly received a one-stroke penalty at the 1995 Honda Classic.
"We hear all the time about so-and-so being put on the clock. What's the point of doing that if you're not going to take the next step?" Myers asked.
"Start adding strokes to players' scores and you'll quickly see those guys taking time off their pre-shot routines."
Such a change would be music to the ears of Koepka, who in 2019 was so frustrated that he offered himself up to play the role of martyr.
"I've tried to get put on the clock, but it doesn't seem to work because nobody will penalize anybody. Even if I take over 40 seconds, penalize me," Koepka said.
"I'll be the guinea pig, it doesn't matter. It needs to happen."