As U.S. women's national team fans scan through the team's recently released roster for the Women's World Cup this summer, they'll see a number of familiar names.
Alex Morgan? Check.
Megan Rapinoe? Check.
Crystal Dunn? Check.
Trinity Rodman? Check.
Savannah DeMelo? Che– wait a second. Who?
DeMelo, who plays as an attacking midfielder for Racing Louisville in the National Women's Soccer League, is the only player on the World Cup roster for the U.S. women's national team who has yet to make her senior international debut.
She isn't totally new to the USWNT picture: DeMelo was called into USWNT camps twice last fall, once in September as a replacement for Trinity Rodman and once in October. But neither of those call-ups resulted in any actual minutes. She hadn't been called to any USWNT camps this year, either — until now, that is, when she was named on Wednesday to the USWNT's World Cup team.
So why did a player with no appearances for the USWNT earn a coveted roster spot? Here's what the 25-year-old brings on the field, and why she forced coach Vlatko Andonovski to pick her.
---
Let's start here: Racing Louisville's most recent win against the Kansas City Current. It's the 64th minute and Louisville leads 2-0 thanks to Savannah DeMelo, who scored the game's opener by blocking Current goalkeeper Cassie Miller's attempted clearance and assisted the second goal. Racing Louisville are pushing for a third goal when DeMelo gets on the ball at the edge of Kansas City's box. Almost immediately, an attack springs to life.
DeMelo sees forward Uchenna Kanu making a run behind the opposing back line. Even with her back to both the goal and her teammate, DeMelo spots Kanu's run.
Most players in DeMelo's situation would take an extra touch to turn, face forward and settle themselves before feeding the runner. Not DeMelo.
She doesn't waste any time, opting for a backheel pass into Kanu's path to avoid letting the defense back into the play.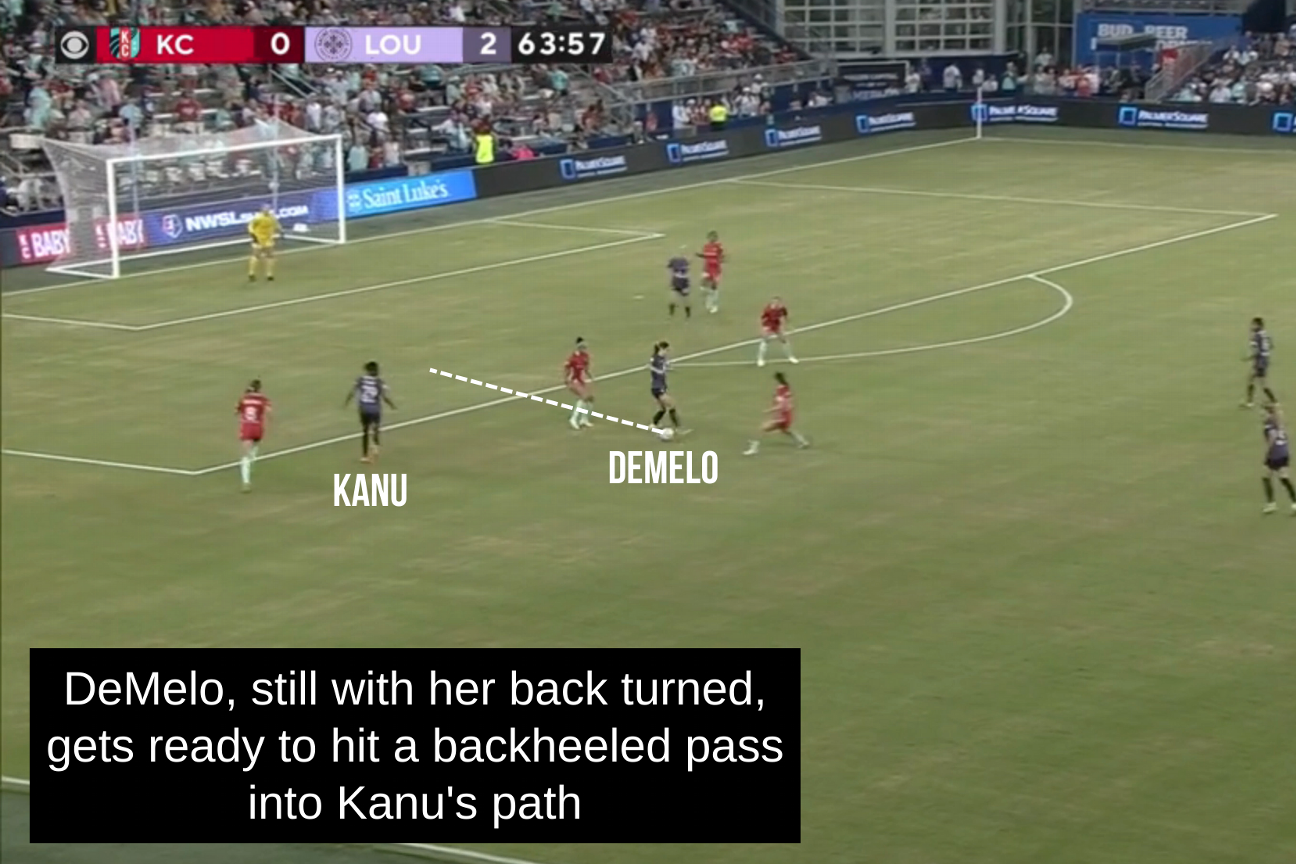 Kanu can't quite control DeMelo's pass and the sequence ultimately fizzles. Still, the whole play helps illustrate the key components of DeMelo's game: She's creative and quick — both in physical speed and her ability to read what's happening on the field — and she changes games in a way that few others can.
Playing her second professional season after being selected fourth overall in the 2022 college draft out of USC, DeMelo has developed into a full-fledged star in the NWSL, which is the league where almost all of the USWNT talent pool plays club soccer. In explaining his decision to select her, Andonovski put it plainly: "Her performance in the league was one of the biggest reasons why she's on the team. And based on the needs that we have in terms of the opponents and different situations that we may face, we see Sav being very important to us going forward."
Often playing as a No. 10 playmaking midfielder behind a striker in Racing Louisville's 4-2-3-1 shape, DeMelo is at her best when she can impact the game in central areas.
Despite occupying an attacking midfield role, DeMelo doesn't always get to enjoy the freedom and high touch count that typically come with the No. 10 position. Racing Louisville tend to play against the ball and are averaging just 47.0% possession this year, which means she doesn't touch the ball as much as some of her positional counterparts. According to FBref, DeMelo is in just the 40th percentile among NWSL midfielders in touches per 90 minutes this year with 48.2.
Why Savannah DeMelo has a case for midseason NWSL MVP
Jeff Kassouf talks about Racing Louisville midfielder Savannah DeMelo's impact and why she has a case for midseason NWSL MVP.
Still, DeMelo doesn't need a ton of the ball to make her mark. She has five goals and a pair of assists so far in 2023 and according to American Soccer Analysis, she's seventh among all regular NWSL starters in expected goals (xG) plus expected assists (xA) per 96 minutes (the equivalent of a game plus stoppage time). Expected goals and assists measure the likelihood that a shot or an assist leading to a shot will result in a goal. Her numbers mean DeMelo is one of the absolute best in the league at both finding quality shots for herself and setting up her teammates for good shots in the attack.
The only players above her in that xG+xA ranking? USWNT star Sophia Smith and two of Smith's teammates with the stacked Portland Thorns, along with Washington Spirit striker Ashley Hatch, who just missed out on the USWNT's World Cup squad, legendary attacking midfielder Debinha, who will likely be Brazil's star at the World Cup, and Kansas City winger Cece Kizer.
That, folks, is what we call good company.
DeMelo has great vision and pairs smart decision-making with quality execution in every phase of the game. In possession, she pulls out creative through-balls and flicks like the one already discussed against Kansas City. On counterattacks, she acts almost as a point guard for Louisville, drawing in opposing defenders before finding the perfect pass …
Perfect passing for #RacingLou's second goal pic.twitter.com/EdBZwrwVUH

— National Women's Soccer League (@NWSL) May 21, 2023
She also adds great service and scoring threat on set pieces, an area of the game where the USWNT tends to build an advantage. This right-footed strike from last year against the Orlando Pride, for example, was hit beautifully. The goalkeeper never had a chance.
Savannah DeMel-OH 🤩@Savannah_DeMelo | @RacingLouFC pic.twitter.com/h500DiS1Ui

— National Women's Soccer League (@NWSL) July 4, 2022
---
Still, it's not just DeMelo's on-ball threat that makes her such a valuable player. What she does away from the ball is equally impressive.
With savvy off-ball runs and a clear understanding of how to find and exploit space, DeMelo is a constant thorn in the side of defenders all over the NWSL. She frequently pushes forward to add another number inside the 18-yard box.
This sequence from a recent Racing Louisville game against the North Carolina Courage illustrates her smart movement. As defender Julia Lester drives down the right wing, DeMelo is part of a band of three runners near the top of the box. While Lester makes her move on the right, DeMelo takes care to read the movement of her two teammates inside the box. One starts to break hard toward goal, while the other starts curving a run toward the front corner of the six-yard box.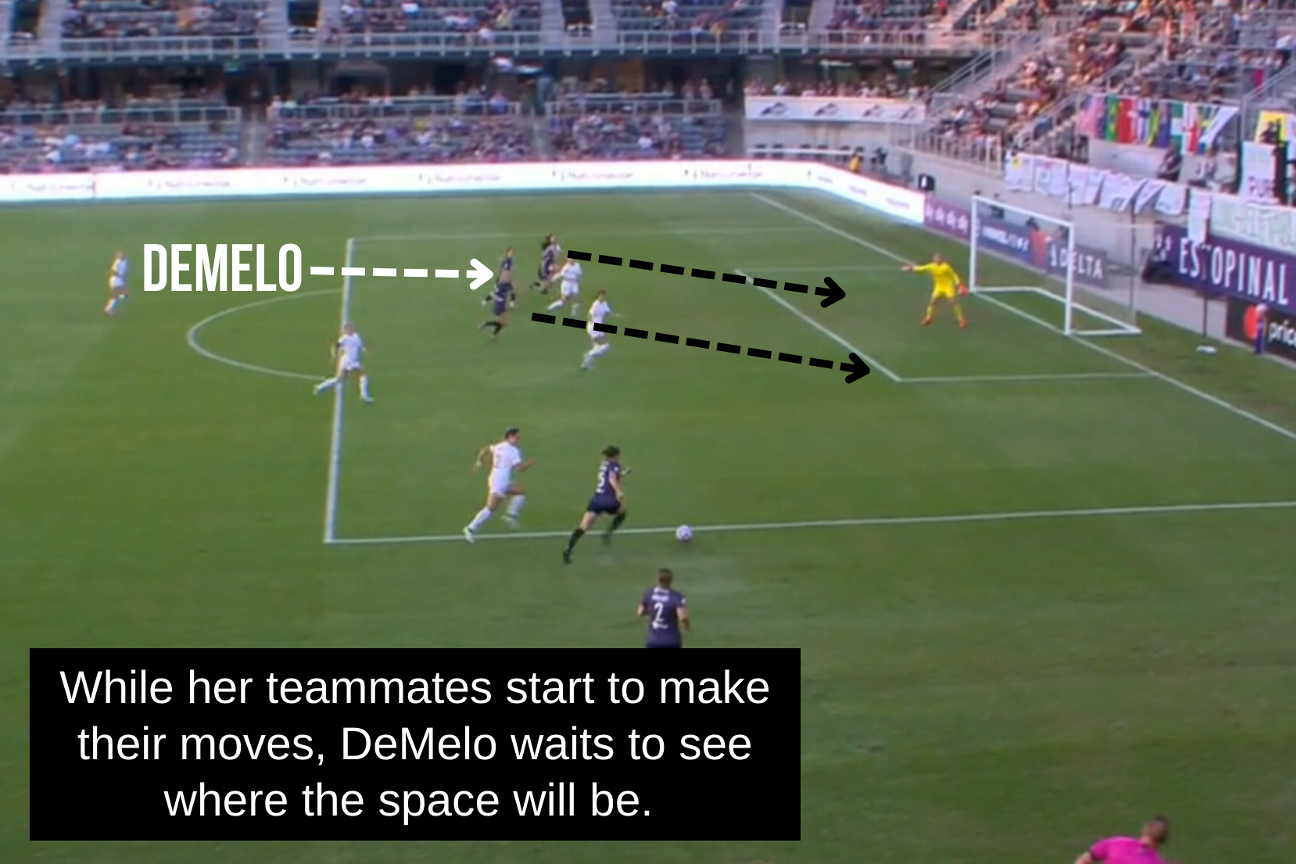 With her teammates pushing back the Courage's defense, DeMelo realizes that she doesn't have to sprint toward the end line to find a pocket of space.
All she has to do is be patient, hold her run, and she can let the play come to her.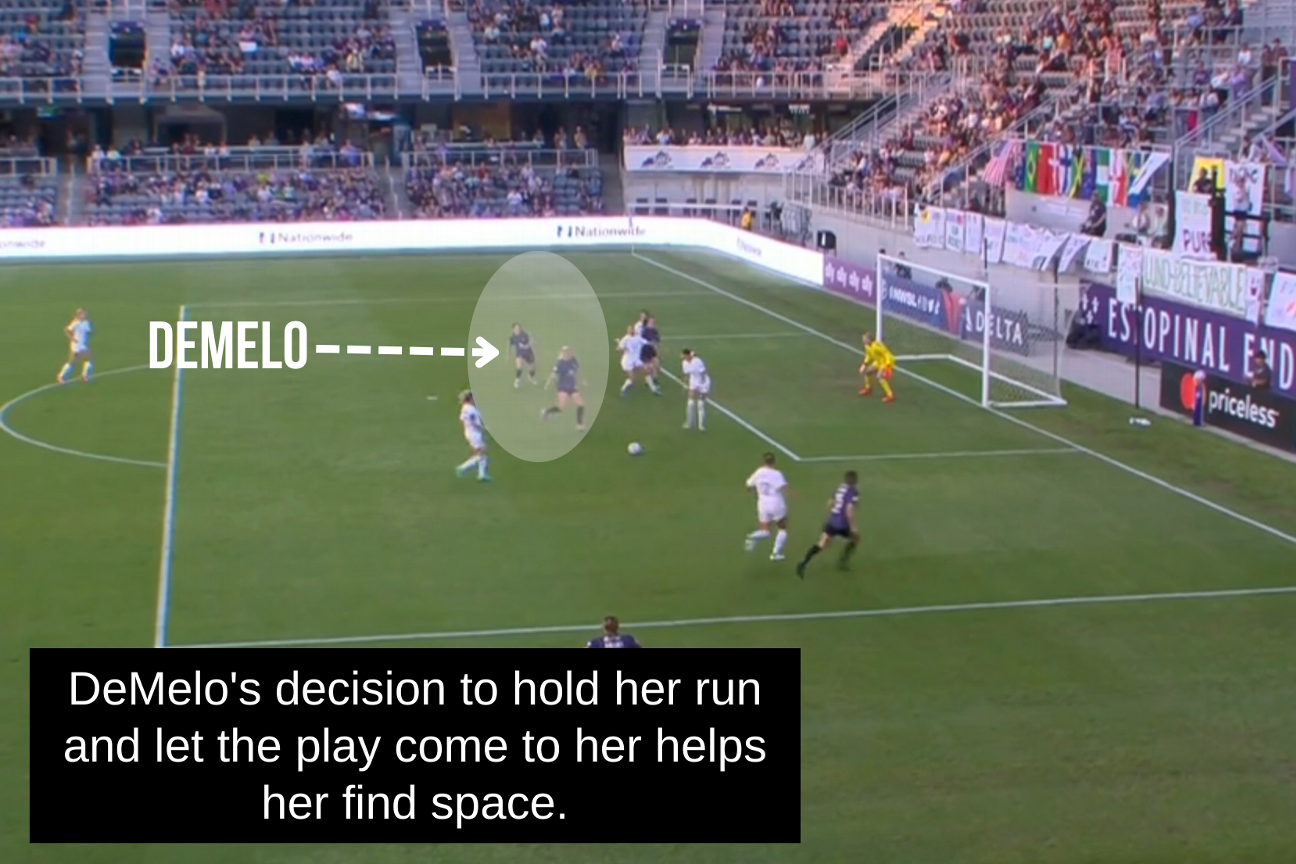 And so it does. The ball falls to DeMelo, who had found the pocket of space she needed, and while she can't direct the bouncing ball on frame, she helps turn a possession into a high-quality chance — that's exactly what the world's best players do.
DeMelo knows when to hold her runs and she knows when to run right at opponents. She has seemingly boundless energy, which makes her a major defensive asset for Louisville. You can see some of that energy on this play against Kansas City where DeMelo makes a hard, winding run out of midfield to press three Current players and push the ball into the back of the net.
.@Savannah_DeMelo cannot be stopped right now pic.twitter.com/oPos5VbpvF

— National Women's Soccer League (@NWSL) May 21, 2023
Between her efficiency, creativity and hard running, DeMelo is a true game-changer in the NWSL. She could be one for the USWNT, too. Her vision, speed of play and set-piece threat can help the Americans break down some of the compact blocks they'll face this summer. Her movement and decision-making in transition can add even more heat to the team's already scorching counterattacks. And her defensive effort and quickness can take Andonovski's press to the next level.
It won't be easy for her to earn minutes for the USWNT at the World Cup in a position filled with other capable and more established players. Rose Lavelle, Lindsey Horan, Ashley Sanchez and Kristie Mewis, who are all in the squad, have each had bright moments for both club and country in a similar attacking midfield role.
But if given the chance this summer, DeMelo has the skills to become one of the USWNT's mainstays — and even a household name.