The 2023 Women's World Cup is in full swing, and these daily files will give you the latest reporting from around the tournament as well as betting lines, what-to-watch-for information and best reads. Check in with ESPN throughout the tournament as we bring you the latest from Australia and New Zealand.
---
The lead: France edge Brazil to take control of Group F
The incredible unbeaten streak continues. France had never lost against Brazil before this match, and their 12th encounter was no different with a 1-0 victory. It is now seven wins and five draws in favour of the French, but more importantly Les Bleues have gained the all important top spot in Group F ahead of the last group game against Panama on Wednesday.
The two oldest and most experienced players in the team, Eugenie Le Sommer, 34, and Wendie Renard, 33, were the heroes with a goal in each half in a game dominated by their team in a much-improved performance from the 0-0 draw against Jamaica.
It must have felt like a home match for Brazil with their wonderful support in full voice, but despite the samba vibes and the momentum from their great win against Panama (4-0), they never really got their game going against a France team under huge pressure after their opening display.
With the two teams going toe-to-toe with 4-4-2 formations, an open game always seemed likely, and it delivered. It was intense, it was mad end-to-end action at times and while France deserved to win, they almost let it slip by conceding an equaliser to Debinha in the second half.
But maybe the return of the famous tight white shirt on coach Hervé Renard brought his winning luck back, too. After two games in a row without scoring (Australia in a friendly and Jamaica) for the first time in six years, it was far more convincing from the French. Grace Geyoro was fantastic in midfield, playing like a Brazilian in the way she bossed the game; Maelle Lakrar was solid at the back and Wendie Renard, who was doubtful due to a calf problem and only passed fit a few hours before kick off, scored the winning goal in the 83rd minute.
For Le Sommer, it was a more usual feeling. She opened the scoring with her 90th goal for France on her 181st cap, showing again what an amazing striker she is.
France now know they only need a point against Panama to secure a place in the knockout rounds. — Julien Laurens
– Women's World Cup: Landing page | Schedule | Rosters | News
– How teams can qualify for the round of 16
---
News of the day
Walsh avoids serious ACL injury
England midfielder Keira Walsh has avoided an ACL injury but is still a major doubt for the rest of the Women's World Cup.
Walsh injured her right knee in England's 1-0 win over Denmark in Sydney on Friday, but a statement issued on Saturday allayed fears she had suffered the most serious prognosis.
Walsh is regarded as one of the world's best players, and her transfer last summer from Manchester City to Barcelona is still a world-record transfer.
Walsh formed the key midfield partnership with Georgia Stanway which guided England to the Euros win last summer, and with England already battling a lengthy injury list with Leah Williamson, Beth Mead and Fran Kirby all injured, Walsh's injury is a further setback. — Tom Hamilton.
Caicedo fit to face Germany
Colombia coach Nelson Abadia said forward Linda Caicedo is "fine" for Sunday's game against Germany and that the scare in training in midweek was down to the impact of being at her first World Cup.
Caicedo, 18, keeled over on Thursday and received medical treatment on the pitch, setting alarm bells ringing, although she was eventually able to complete the session.
"The episode with Linda was related a little to tiredness and to the stress of making her debut in the World Cup," Abadia said. "She has played in younger age group World Cups, but a senior World Cup comes with increased demands and she is just 18, she is still a girl as far as football goes. But there is no problem with Linda. She is fine."
Asked if she was definitely available to face Germany, he added: "She has totally overcome the problem. We have 24 hours before the game to make a decision, but she is fine. She is a very important player for us."
Real Madrid forward Caicedo played in the U17 and U20 World Cups last year, while she was also named Player of the Tournament at the Copa America last summer. She was on target in Colombia's opening win against South Korea. — Sam Marsden
Spain insist no issues with World Cup lodgings
Spain insist logistics were behind their decision to leave their World Cup base in Palmerston North and head to Wellington for the next week, sources tell ESPN.
ESPN reported on Friday that the move was fuelled by a lack of things for the players and their families to do in the area, especially in the evenings.
"We have all been absolutely happy in Palmerston North," a spokesperson for the Spanish team told ESPN, citing other reasons for the change. "We moved to be closer to the stadium and because if we top Group C after our match against Japan, we will also play in Wellington. Our base has been amazing, and Massey University has been the best place to train everyday."
Palmerston is two hours north of Wellington by bus and a short flight from Auckland. La Roja, who have already qualified for the round of 16, are guaranteed to play their games in those two cities until the semifinals, if they progress that far. — Sam Marsden
---
Today in USWNT camp
The road to a World Cup title is riddled with detours and alternate routes. Such a path may still get a team to its ultimate destination, just not in the way that was originally planned. So it is proving for the U.S. women's national team, especially when it comes to its lineup choices in midfield and defense.
Jeff Carlisle reports from Auckland on the Julie Ertz dilemma that could ruin the USWNT's defense of their World Cup crown. Just what is her best position for this team, and how can coach Vlatko Andonovski fill the gaps left behind?
---
Sights and sounds
Sweden thrash Italy to qualify for knockout rounds
How far can Sweden go at the World Cup?
Sam Marsden reacts to Sweden advancing to the last 16 after beating Italy 5-0 at Wellington.
If you are going to stop Sweden, who are now safely through to the round of 16, then you will have to learn how to defend their set plays. Three of their goals in Saturday's 5-0 win over Italy in Group G came from corners, with defender Amanda Ilestedt scoring two of them to take her tally to three in the tournament. Fridolina Rolfo turned home another at the back post, while Stina Blackstenius and Rebecka Blomqvist scored from open play.
Doing the most damage, though, is left-back Jonna Andersson, whose in-swinging deliveries are causing teams a huge amount of problems. It was her delivery — and Ilestedt's header — which secured a 90th-minute win over South Africa in the opener.
Italy had actually started well at Wellington Regional Stadium, known locally as the Cake Tin. Sofia Cantore drew two early saves from Zecira Musovic as the Azzurri set about following up their win over Argentina with another three points. They lost their way in the seven minutes before half-time, though, with Ilestedt and Rolfo both netting from corners before Blackstenius added the third. Another Andersson corner was turned home by Ilestedt just after the break, with Blomqvist adding the fifth late on.
Sweden are through with a game to spare; Italy will seek consolation in the fact they still have their fate in their own hands going into Wednesday's deciding game against South Africa. — Sam Marsden
Notable injuries continue to plague the Women's World Cup
The sight of Keira Walsh being stretchered off in the 35th minute of England's 1-0 win over Denmark was a hammer blow for both player and country, but also for the tournament overall, as yet another important player has been sidelined.
England are waiting to learn the severity of Walsh's injury, but whenever you see a player crumble to the ground with their knee buckling beneath them, your mind immediately heads to the worst case scenario. Those terrifying three letters — ACL — were already hovering over this tournament before a ball was kicked with Vivianne Miedema (Netherlands), Christen Press and Catarina Macario (USA), Marie-Antoinette Katoto (France), Janine Beckie (Canada), Beth Mead and Leah Williamson (England) all absent. It's a talented, and lengthy, list.
Thankfully for Walsh, it has been confirmed there is no ACL injury.
The players here at the World Cup are also bearing the brunt of a brutal workload, with many players only getting a week or two max off after the end of the 2022-23 domestic seasons in Europe. More breaks was something that the European Club Association (ECA) and FIFPro (the global players' union) argued against in the build-up to the tournament, calling for longer rest periods. It'll be something at the forefront of negotiations ahead of the next World Cup in 2027, but we're seeing a worrying number of injuries already at this competition.
Sam Kerr missed Australia's first two matches with a calf injury identified during a training session, while her teammates Mary Fowler and Aivi Luik sat out their second match with concussion. Elsewhere, France's Wendie Renard has also suffered a calf injury, and Norway's Ada Hegerberg suffered a groin issue in the moments before their match against Switzerland. Germany were without influential midfielder Lena Oberdorf, who missed their 6-0 win over Morocco, and they are without left-back Felicitas Rauch for their second match with a knee injury. We've also seen the first ACL injury in this tournament, suffered by Haiti's Jennyfer Limage against England.
While there were some immediate takes as to how Walsh suffered the injury, with Arsenal manager Jonas Eidevahl saying he thought the pitch in Sydney was too dry — a theory dismissed by the England management and players alike — Miedema's tweet perhaps had the most global resonance inside and outside of the game:
Devastating to see the amount of injuries being picked up in this tournament so far…💔

This World Cup should have been played with a 26-player squad to reduce stress on players and to let coaches deal with injuries correctly. #FIFAWomensWorldCup2023

— Vivianne Miedema (@VivianneMiedema) July 28, 2023
Either way, it's brutal for the players, a huge blow for their teams and to the tournament's detriment that these stars are absent. More needs to be done to protect the players and manage their workloads in the future. — Tom Hamilton
Jamaica get it done vs. Panama
The fear was that without goal-getting captain, Khadija "Bunny" Shaw, Jamaica would be somewhat toothless against World Cup newcomers, Panama and with the two teams deadlocked at the break, the fear seemed a very real reality for the Reggae Girlz. The Caribbean nation had however come close, drawing two strong saves from Yenith Bailey before finding the back of the net just before the hour through Allyson Swaby's deft header.
With Jamaica unable to put the game to bed, the last 30 minutes remained tense up to and including stoppage time when the Reggae Girlz had a penalty call overturned as, per IFAB's rules, Wendy Natis' arms were not in an unnatural position as the ball struck her arm in the box. Marta Cox had time to come achingly close for Panama before time ran out and they became the latest team eliminated from the World Cup, with Jamaica riding high in the group at their expense.
One of France, Brazil and Jamaica will end up going home early. Who will it be? — Sophie Lawson
'A sigh of relief across Australia' as Sam Kerr says she's available
Marissa Lordanic reacts to the news that Sam Kerr expects to be available for Australia's game against Canada after a left calf muscle injury.
Australia's Kerr is good to go, says Kerr
Good news for the hosts: Australia and Chelsea star Sam Kerr is available to play if selected against Canada in the Matildas' must-win final group game.
The captain talked to the media Saturday for the first time since revealing the calf injury that ruled her out of Australia's opening two matches, declaring herself ready. "I'm definitely going to be available, but how we decide to use that is not to be given to the opposition," she told media in Brisbane.
Even the prospect of unleashing Kerr off the bench at a minimum would be enough to soothe some of Australia's anxieties heading into this critical match against the defending Olympic champions. Speaking for the first time about her calf, Kerr joked about the awful timing of the injury. "It's hilarious because I have the biggest calves in the world, so I'm not sure why it decided to play up the day before the World Cup," she said.
She closed her appearance by thanking the team and the nation for their support as she did "everything under the sun" to be back for this clash. — Marissa Lordanic
Why everyone should be worried about Germany
Germany's form coming into this World Cup has been patchy at best, the European juggernauts winning just three of their last seven matches, including a narrow win over Vietnam and a worrying loss to Zambia in their send-off game. But as is typical of the former World champions, as soon as they were under way at the tournament, the connections that had been missing between players suddenly formed, as they found their best play at just the right time.
There is of course the context with Germany — just as there is with Brazil, Japan and Spain, who have all looked poised for a sprint to the final — that they were playing a nation placed well below them in the rankings. Morocco are not just 70 places below Germany in FIFA's current rankings, but tournament debutantes who've seen a swift development in their women's football programme. The question for the four teams who've started so well is if they can avoid complacency and being lured into a false sense of security, but history would suggest this isn't an issue for Germany, who rarely rest on their laurels.
There are concerns, as they lost both Giulia Gwinn and Carolin Simon to ACL injuries before the tournament and then announced that Felicitas Rauch has suffered a serious injury during the competition, rounding out the hattrick of full-backs with injured knees. For coach Martina Voss-Tecklenburg's side, attack really is the best form of defence and much like Spain and Japan who possess the ball so well, Die Nationalelf would do better to simply keep a hold of the ball to protect their weakened defence.
After only 90 minutes against the Atlas Lionesses, it's far too soon to say Germany have a hand on the trophy already but there was always the question of how far this team could go in Australia, but so far, so good for Germany. — Sophie Lawson
– World Cup news, features, previews, and more
– Stream FC Daily and Futbol Americas on ESPN+
Canada players back on media duty after pay dispute
With a make-or-break, win-and-you're-in clash with a potentially Sam Kerr-reinforced Australia on the horizon, Canada's players were in no mood to talk about their newly announced interim-pay deal with Canada Soccer on Saturday, batting away any questions on the matter to maintain attention on their footballing task at hand.
After initially signalling an intention to go to ground and restrict media access to FIFA-mandated events a day out from the contest, the reigning Olympic champions performed an about-face on Friday evening, organising media availability with midfielder Julia Grosso, forward Cloe Lacasse, and defender Shelina Zadorsky for the next day. It came alongside the announcement that the team had reached an interim agreement with Canada Soccer over compensation for 2023, including prize money allocation from the World Cup.
A statement from the players of the Canadian Women's National team. pic.twitter.com/iVuoJhncKg

— CanadianSoccerPlayers (@PlayersCanadian) July 28, 2023
The statement released by the players stated they were "deeply disappointed to find ourselves without a more complete agreement at this stage in our crucial calendar," but when questioned on Saturday, none present were inclined to expand.
"I don't really speak much about that. I don't have much to say about that," said Grosso, while Lacasse declared: "As everyone knows we've made our statement and we're not going to be commenting on that right now. Our focus is on the World Cup … after the World Cup, we will discuss that."
Instead, their focus was directed towards Monday, a game that will be played in front of a highly partisan full house at Melbourne Rectangular Stadium with both nation's World Cup campaigns on the line. The Matildas received a boost for the contest earlier in the day when talismanic striker and captain Kerr declared herself ready to feature but, when the Chelsea star was raised, Zadorsky wasn't keen to single her out, and referenced the game series the two nations played last year in which Canada won both games on Australian soil.
"As everyone knows, we've faced world-class strikers in the past, Sam being one of them," she said. "We've come against Australia in the past, so we've faced Sam and the Australian group. We're going to scout and analyse every member of that squad. It's taking it game by game and analysing every individual." – Joey Lynch
---
Match previews for July 30
Odds via Caesars Sportsbook.
Group H: South Korea vs. Morocco (Hindmarsh Stadium, Adelaide; 4:30 p.m. local / 12:30 a.m. ET / 5:30 a.m. BST)
Odds: South Korea -165, Draw +255, Morocco +480
South Korea head into their key World Cup group stage match against Morocco in Adelaide with the post-match words of their manager, Colin Bell, still ringing in their ears. Bell was deeply disappointed with the manner of their opening round 2-0 defeat to Colombia, and he didn't hold back afterwards when detailing their shortcomings.
"Colombia were the better team, the stronger team, so we have to learn from that," Bell said. "It's that decision-making in pressured situations [that is the issue], and that's where we have to step up as a nation. That's where everybody that's involved in women's football in Korea has to step up.
"We need to play faster. We need to work harder. OK, the second half was maybe a little bit more controlled, but the game was already done."
It was unequivocal criticism of his team's performance — and drew a backlash — despite that Bell had opted for an experienced squad for this competition. Their challenge against Morocco, who are coming off a 6-0 defeat to Germany, will be to sharpen up.
South Korea will be heavy favourites, with the wonderful Ji So-Yun at the heart of everything they do well, but they'll be keenly aware of improving on their return at the 2019 World Cup, where they lost all three group matches. — Tom Hamilton
Group A: Norway vs. Philippines (Eden Park, Auckland; 7 p.m. local / 3 a.m. ET / 8 a.m. BST)
Odds: Norway -1,000, Draw +700, Philippines +2,100
Prior to the Women's World Cup, a prediction that the Philippines would control their destiny heading into the final group stage match against Norway, while the Norwegians would be staring at elimination, would have been the stuff of fantasy. But here we are. A draw may well be enough for the Philippines to advance, while a Norway victory might not be sufficient to put them through.
The Philippines already feel like they're playing with house money. After minimizing the damage in a 2-0 defeat to Switzerland — a match in which they had just 27% of the ball — Alen Stajcic's side sprung an upset on co-hosts New Zealand thanks to a goal from Santa Clara, Calif.-born Sarina Bolden. Advancing to the knockout rounds would exceed their wildest dreams.
While the Philippines are in dreamland, Norway has been out of sorts from the beginning. The Grasshoppers have failed to score in two matches, despite entering the tournament with former Ballon d'Or winner Ada Hegerberg and Caroline Graham Hansen in the team. Hegerberg had to sit out the 0-0 draw with Switzerland after picking up a groin injury during warmups, while Graham Hansen surprisingly was on the bench against the Swiss and didn't make much of an impact over the course of 33 minutes as a substitute. After the match, she lashed out at manager Hege Riise for the benching, later apologizing for her outburst.
Yet there is still hope for Norway. A win over the Philippines will leave them waiting for the Switzerland/New Zealand result to see if they advance and salvage their World Cup journey. — Jeff Carlisle
– All permutations for qualification from Group A
Group A: Switzerland vs. New Zealand (Dunedin Stadium, Dunedin; 7 p.m. local/ 3 a.m. ET / 8 a.m. BST)
Odds: Switzerland +108, Draw +210, New Zealand +270
It's not hyperbolic to say that Sunday evening's clash with Switzerland is the biggest game in the history of women's football in New Zealand. A case could be made, in fact, that it's the biggest game the country has ever seen, period.
Heading into the final matchday of Group A, the Football Ferns, having already secured their first-ever win at a World Cup against Norway, now need another to guarantee progression to the knockout stages for the first time in their history. Draw, and they're on scoreboard watch. Lose, and they could become the first host nation to ever be eliminated in the group stages – albeit with the disclaimer that they are the most unheralded nation to ever host the tournament.
Top of the group and in the box seat to secure progression as the only team to possess a positive goal differential, the Swiss are primed to play spoilers. And after watching their win over Norway, they are very aware of what a partisan home crowd can do for the Kiwis. "I think we already knew what New Zealand is capable of," captain Lia Walti said. "But we watched that game and could see how much support could actually change the performance of the team." — Joey Lynch
Group H: Germany vs. Colombia (Sydney Football Stadium, Perth; 9:30 p.m. local/ 5:30 a.m. ET / 10:30 a.m. BST)
Odds: Germany -450, Draw +450, Colombia +1,200
This is very likely to be the "final" of this group, deciding who finishes top of the group considering how strong these two teams are compared to South Korea and Morocco.
The Germans will be considered favorites after their 6-0 thrashing of Morocco. Alexandra Popp & Co. look already at their best, and another impressive display against a very physical Colombia would make a big statement in this tournament.
Colombia are ready to defend deep and be aggressive, striking on the counter-attack, but can they last 90 minutes with the right intensity to frustrate Germany? Probably not, though they will give it a good go. The health scare for star Linda Caicedo scare has united this squad more than ever.
This is a small, but significant test for Germany. Can they handle that physicality and still play sparkling attacking football? And if they can, what does that tell the rest of the tournament favorites? — Julien Laurens
---
Features of the day
Wendie Renard leads by example for France
The veteran defender stepped up after struggling with fitness issues all week, turning in a brilliant performance and scoring the winner for France against a dangerous Brazil side, reports Julien Laurens from Brisbane.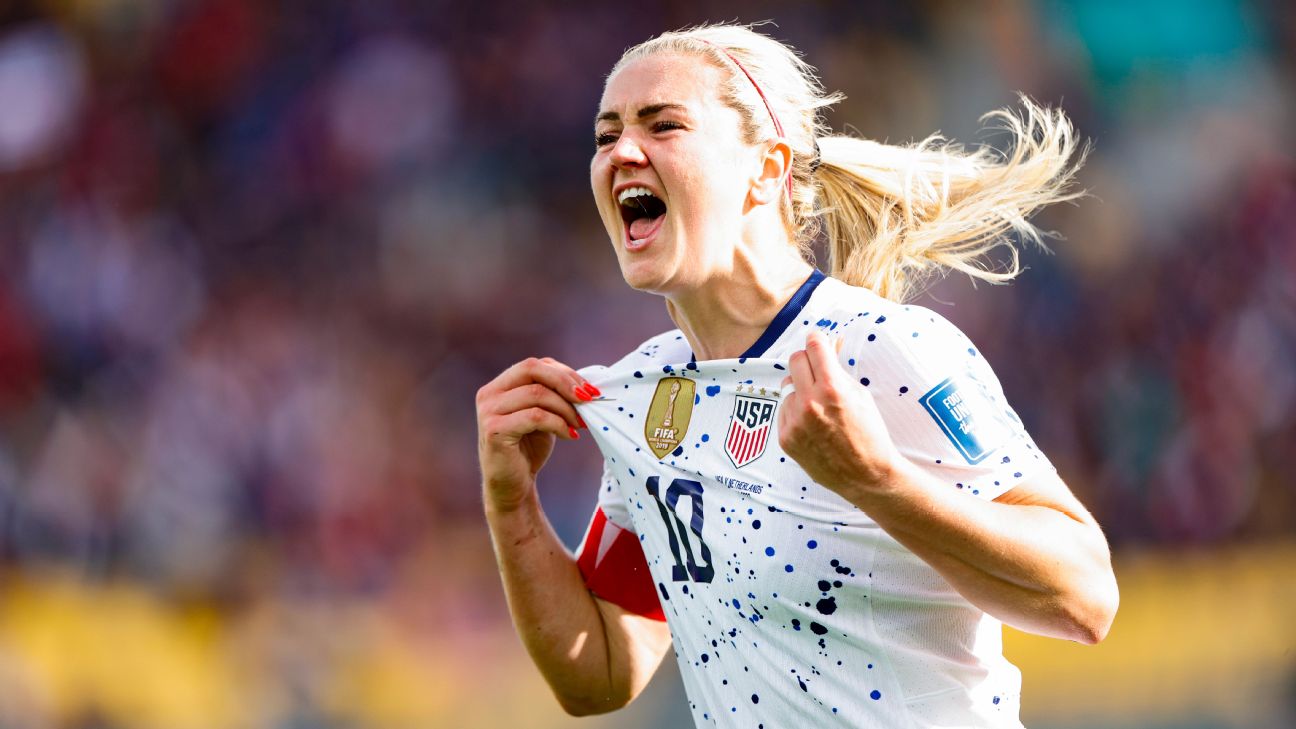 Relax! Don't panic about the USWNT at this World Cup
Ryan O'Hanlon says that while some fans are questioning the USWNT's World Cup chances after a less-than-dominant first two games, there's plenty of reason for optimism.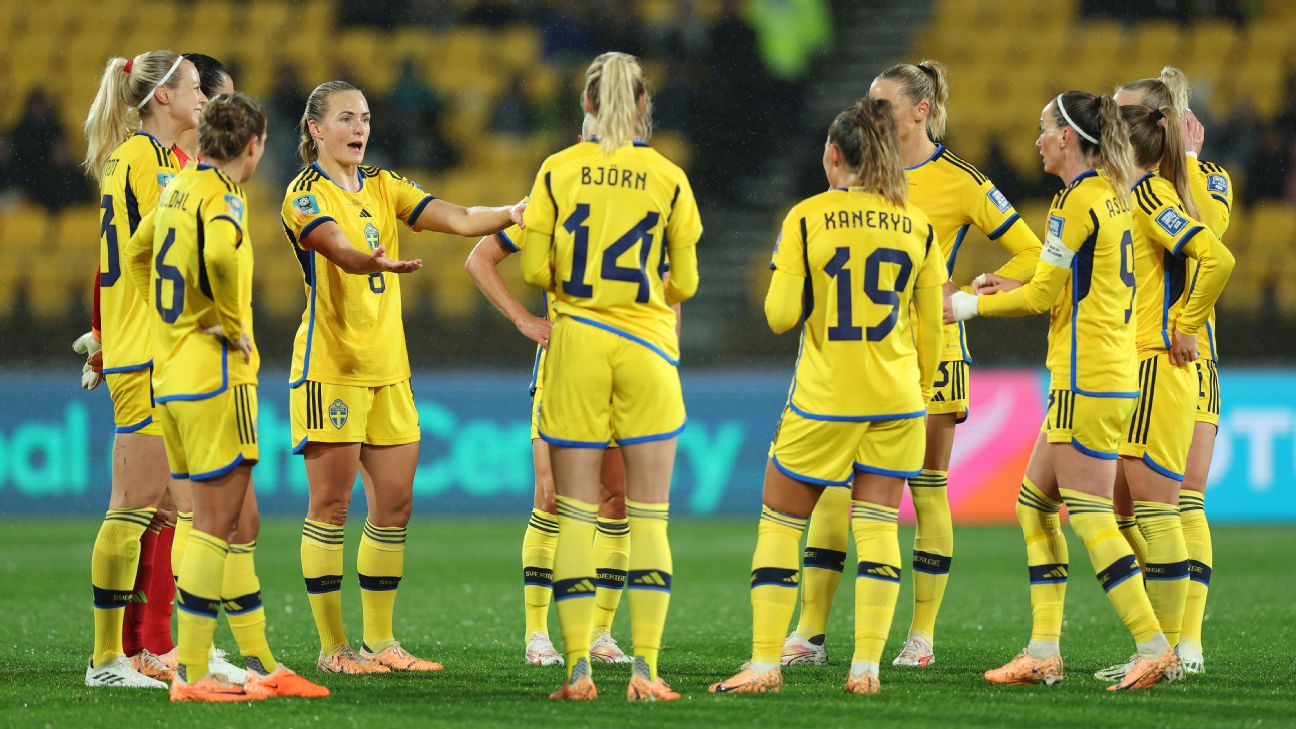 Sweden's cornhole competition lighting up their squad
Sam Marsden reports on how the most unlikely of games has been a major catalyst for Sweden away from the field. Said defender Magdalena Eriksson, "It is important to do these type of things as a team, to not always only think about football. Talking from my own perspective, I know I can be quite obsessive about football so I need things to distract myself and other competitions."
---
And, finally …
Gala's "Freed from Desire" is the most popular choice of goal music chosen at the Women's World Cup, with three of the 32 teams at the tournament selecting the '90s club classic.
Before the World Cup in Australia and New Zealand kicked off on July 20, each national team submitted to FIFA up to two songs to be played over the stadium PA whenever they score.
None of them chose the official song of the 2023 Women's World Cup, "Do It Again" by BENEE featuring Mallrat, but that would have been a wasted choice as it is played before every match anyway.
Taylor Swift was one of the many famous faces who starred in the United States national team's squad reveal video, and the pop superstar's presence continues to be felt at the tournament; her 2017 song "… Ready For It?" was picked as the USWNT's goal music of choice.
Check out what the other teams selected as their tunes of choice.